91 Years of Manufacturing Excellence
We're Serious About Service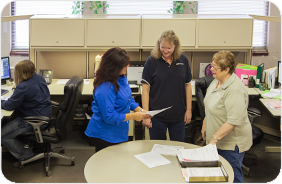 Our prompt and courteous service supports the high quality of our hinges. Call our customer service reps to discover for yourself how competitive our pricing is and how short our lead times are. They can offer you our signature services: free parts development, free prototype samples and free inventory management services.
At the S & S Hinge Company, we guarantee 100% defect-free parts because we manufacture our hinges under an auditable and fully traceable certified Total Quality Management program. The S & S Hinge Production Tolerances Diagram illustrates our standard
production tolerances
.